We encourage our students to reach new academic heights.
At Shining Light Academy, students who attend our school are exposed to our strong academic program, which encourages personal responsibility and achievement. In elementary, we primarily use the Abeka curriculum, which focuses on teaching in a practical way, with a strong emphasis on intensive phonics for basic reading. In middle and high school, we predominantly teach from the Bob Jones Press curriculum, favoring its attention to critical thinking and encouragement of creativity.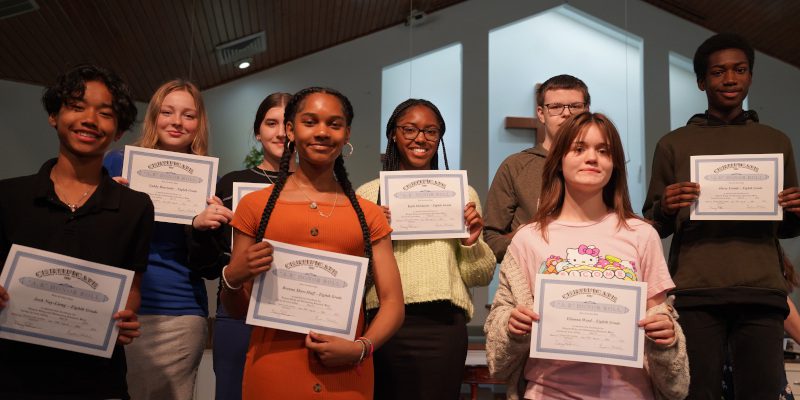 Our teachers do a great job of focusing on academics and developing critical thinking skills. Our teachers rely on the Abeka and Bob Jones Press curricula to help our students learn important, useful, and interesting ideas and concepts. With this foundation, our students learn how to think for themselves and present ideas in a sensible, interesting way.
We also rely on traditional methods of teaching subject matter. Students are exposed to a variety of subjects, including reading, grammar, vocabulary, literature, spelling, handwriting, mathematics, science, history, and more. All students also attend a Bible class where they learn universal truths necessary for encouraging critical thinking.
Our academics set our Greensboro, North Carolina Christian academy apart. Not only do we provide our students with a strong educational foundation, but they also exceed national and state standardized testing scores on a regular basis.
As a parent, you want to give your child the best educational experience possible while preparing them for life to come. We will support you in this journey and help your child reach their academic goals. For more information about our academics and the curriculum we use, contact us today.
Common Questions About Our Academics
As a parent, you want your child to receive a strong academic foundation. At Shining Light Academy, our academic programs set our school apart, and we have answered a few questions about our academics down below.
What curriculum does your school use?
Two of the main curriculum programs our teachers use include the Abeka and Bob Jones Press. Abeka is primarily used in elementary school because of its highly regarded ability to build foundational knowledge for students. As students move into middle school, we incorporate more Bob Jones Press to facilitate critical thinking and creativity.
What do your teachers focus on in the classroom?
Supported by our curriculum, our teachers focus on empowering students to think for themselves and present ideas in creative, factually sound ways. We also place a strong emphasis on helping our students develop critical thinking skills.
Will my student be taught all the traditional subjects?
Yes! While attending our school, students are exposed to many subjects, including vocabulary, grammar, reading, literature, science, history, mathematics, and more. Students also attend a Bible class where they learn about the Word of God, as well as "common sense courses" like speech, computer/keyboarding, leadership, and college prep, where they learn practical life skills lessons. Our goal is not just to develop college-ready students (which we do!), but also "life-ready" students with emphasis on versatility.
How do your students perform on standardized tests?
On a regular basis, we exceed state and national standardized testing scores. This is just one of the many ways we measure our academic success.
Can you tell me more about your academics?
Yes! If you would like to learn more about our academic programs, please don't hesitate to contact our school.
Similar Services We Offer: